Florida Gov. Ron DeSantis (R), a Republican 2024 presidential candidate, has appointed six new members to his state's Drug Policy Advisory Council—and it includes an eclectic mix of stakeholders, like a sheriff who campaigned against a medical cannabis ballot initiative that voters approved and another sheriff who supports marijuana decriminalization.
The panel also features yet another sheriff who went viral for warning heroin sellers while wearing a ski mask and a pastor who thinks his fellow Southern Baptists should "take a breath and not make" moderate use of alcohol "an issue."
The governor appointed six members to the advisory council late last month, as is required under a law that was enacted in 2011. The panel, which falls under the state Department of Health, is responsible for studying substance misuse and drug control and then submitting findings and recommendations to the governor's office.
This newly appointed group of advisory council members includes three members of local law enforcement, two religious leaders and one mental health advocacy executive. And as activists separately work to put a cannabis legalization initiative on the Florida ballot next year, the new panel members' past comments and actions around marijuana and other drug-related issues may help to inform the administration's response, even if the governor has already made clear that he opposes the reform.
Here's an overview of the drug policy backgrounds of the new DeSantis appointees to the Council: 
Pasco County Sheriff Chris Nocco
The sheriff campaigned against the state's 2016 medical marijuana legalization ballot initiative as part of the Florida Sheriff's Association.
"If the amendment was truly about and focused only on medicinal marijuana, like Charlotte's Web, I would not oppose it," Nocco said. "However, the real purpose of this amendment is for recreational marijuana to be legalized, which I oppose."
His office also worked to support local efforts to extend a moratorium banning medical cannabis growers, processors and distributors from operating in the county.
"It is the citizen's choice, however, they need to evaluate the unintended consequences in Colorado," he said, as the office promoted statistics attempting to link marijuana businesses opening to increased crime and impaired driving in Colorado.
In 2012, Nocco also helped push for a boycott of stores that sold synthetic cannabinoids that were technically legal because the novel substances hadn't yet gone through a scheduling process.
"If as a community we only buy at these stores and boycott stores that are selling this poison, then they will feel the pressure. They will either stop selling or lose revenue," he said. "Either way, we are making our point and saving lives."
Hillsborough County Sheriff Chad Chronister
Chronister especially stands out on the advisory council, as he's publicly applauded the Hillsborough County Board of County Commissioners for voting to decriminalize possession of up to 20 grams of marijuana, making it a civil offense instead of a misdemeanor.
"I commend and thank Commissioner Les Miller and all of the Hillsborough County Board of County Commissioners who worked with us to create fair enforcement and less financially burdensome penalties in regards to marijuana possession," he said in a statement in 2020. "Having consistent enforcement all throughout Hillsborough County is vital."
"This ordinance allows our Sheriff's Office and the State Attorney's Office to focus our resources on arresting and prosecuting violent offenders," he said.
Chronister was also in the news earlier this year after he announced the arrest of a deputy in his office who was accused of selling marijuana edibles to prison inmates that he was supervising.
Last year, he was also among 64 sheriffs who endorsed Florida Attorney General Ashley Moody (R), who is actively seeking to invalidate a marijuana legalization ballot initiative through legal challenges in the state Supreme Court.
Lake County Sheriff Peyton Grinnell
In 2017, the sheriff appeared in a PSA video, flanked by masked deputies with firearms, and delivered a threatening message to people who sell heroin. The video went viral, making national headlines.
"To the dealers, I say, 'Enjoy looking over your shoulder, constantly wondering if today is the day we come for you. Enjoy trying to sleep tonight wondering if tonight's the night our SWAT team blows your front door off the hinges," he said. "We are coming for you. Run."
He also took a victory lap after his office seized 200 pounds of marijuana from an airplane during a raid in 2017, which involved partnership with the Federal Aviation Administration (FAA).
"This is a great example of inter-agency cooperation and we couldn't be more proud of all the hard work that went into this operation," Grinnell said.
During his 2017 campaign for county sheriff, Grinnell also pledged to revive D.A.R.E., an anti-drug youth prevention initiative that was established during the Reagan era. However, he said that he wanted the program to go beyond "Just Say No" and provide a more comprehensive service.
"The D.A.R.E. curriculum has moved away from being solely drug-based education," he said. "It's more focused on life skills, conflict-resolution, and good choices."
Pastor Dean Inserra
Dean Inserra, the lead pastor at the Southern Baptist CITYCHURCH, has previously advocated for leadership in his faith circle to get over strict alcohol abstinence and embrace a more moderate approach that doesn't alienate people for doing something that's not expressly prohibited in the bible.
He's against drunkenness and underage drinking, but he said in 2014 that "Southern Baptists to take a breath and not make alcohol an issue." He said that they "lose credibility when we force culture issues as absolutes."
It's not clear where he stands on cannabis overall, but he's made joking posts about it on Twitter.
For example, he joked with a radio host in 2016 about how he has "a way with pot. I mean pots… Pots," to which the host replied "vote NO on two," referencing the medical cannabis legalization initiative that was on the state's ballot that year.
vote NO on two

— Greg Tish WVFT Real Talk 93.3 (@Greg_Tish) October 22, 2016
He commented in 2015 that he smelled like marijuana because he drove past a Phish concert, which are widely associated with cannabis culture.
The weed we smell like is because we drove by the Phish concert with our windows down on the way back to the evening session. WOW.

— Dean Inserra (@deaninserra) August 5, 2015
Also that year, he said NFL locker rooms should feature signs saying "Want to play in the NFL? Don't smoke weed."
They need a sign in every locker room…
"Want to play in the NFL? Don't smoke weed."

— Dean Inserra (@deaninserra) January 10, 2015
Melanie Brown-Woofter
Brown-Woofter, who leads the Florida Council for Community Mental Health, doesn't appear to have an extensive record on marijuana-specific issues, with much of her work focusing on opioids.
However, she did write in a guest blog post last year that "drug dealers are lacing cocaine, heroin and even marijuana with fentanyl because it is cheap to make and easy to hide," despite questionable data on the prevalence of fentanyl being added to cannabis.
"This lethal combination leaves people gambling with their lives and too often results in devastated families and communities," she said. "Gov. Ron DeSantis, First Lady Casey DeSantis and Attorney General Ashely Moody are leading the charge to hold bad actors accountable while also providing the public with much-needed resources."
She was also a speaker at a 2021 conference for a panel titled: "Cannabis is Here: Getting into the Weeds on Legislative Mandates & Coverage Issues." It's not clear what was discussed at the event, however.
Rabbi Meir Kessler
Mier Kessler, a rabbi who serves as director of the Jewish Recovery Center, has a light record on drug policy issues beyond supporting efforts to treat addiction within his community.
He discussed the center's work to incorporate detox, treatment, community and spirituality during a podcast interview in 2020.
—
Marijuana Moment is tracking more than 1,000 cannabis, psychedelics and drug policy bills in state legislatures and Congress this year. Patreon supporters pledging at least $25/month get access to our interactive maps, charts and hearing calendar so they don't miss any developments.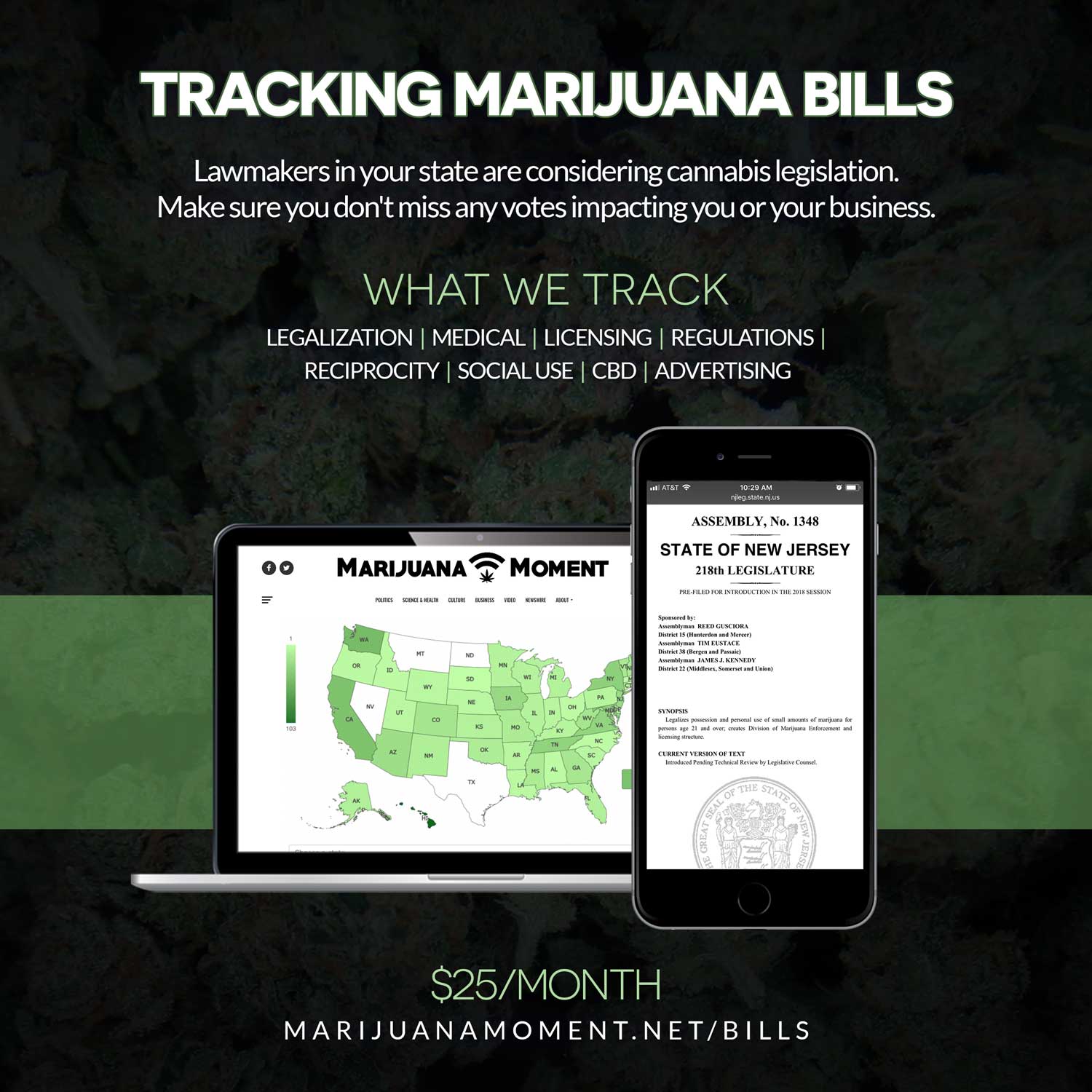 Learn more about our marijuana bill tracker and become a supporter on Patreon to get access.
—
DeSantis, meanwhile, recently said that he would not move to federally decriminalize marijuana if he's elected president. His overall record on the issue is fairly mixed.
Earlier this month, DeSantis signed legislation banning sales of any consumable hemp products—including cannabis "chewing gum"—to people under 21, an expansion of an existing prohibition on young people being able to purchase smokable hemp.
The governor separately signed a measure this month that prohibits sober living facilities from allowing residents to possess or use medical marijuana, even if the patient is certified by a doctor to legally use cannabis therapeutically in accordance with state law. All other doctor-prescribed pharmaceutical medications may be permitted, however.
Two Black farmers in Florida were recently awarded medical marijuana business licenses under a bill that Gov. Ron DeSantis (R) signed into law last month.
Depending on the outcome of an ongoing state Supreme Court case, the governor may not have a say in whether Florida enacts legalization. The state recently certified that a campaign collected enough valid signatures to put the issue on next year's ballot, though Florida Attorney General Ashley Moody (R) is challenging the measure, imploring the court to invalidate it as she's done with previous reform initiatives.
Separately, economic analysts from the Florida legislature and DeSantis's office estimate that the marijuana legalization initiative would generate between $195.6 million and $431.3 million in new sales tax revenue annually if voters enact it. And those figures could increase considerably if lawmakers opted to impose an additional excise tax on cannabis transactions that's similar to the ones in place in other legalized states.
Schumer Says Work Continues On Marijuana Banking Bill As Key Senators Dispute Reason For Delay
The post DeSantis Appoints Drug Policy Council Members, Including Sheriff Who Campaigned Against Medical Marijuana And Another Who Backs Decrim appeared first on Marijuana Moment.